Skonti is one of Afrobeats' artist on the rise. After signing to Kwaw Kese's Mad-Time Entertainment music label, he went on to produce some of the popular Ghanaian songs such as Sweetio by Raquel, Girlfriend by Edem, and Yakubu by Kwaw Kese.
As a budding artist, Skonti's influence and pedigree were doubted by detractors in Ghana's music space, when he formed a formidable group with his former friend and rapper Nfemfem, and but they ignited their indomitable fire on their mics.
Skonti's journey to music began as an 8-year-old drummer boy for his School's Cadet Corp, and not much changed up until he was about 17-year-old when he was drawn close to an 'Ol'gee' in the hood where he was always making beats.
"Music is a language I found myself understanding and communicating through from a young age. As an 8-year-old drummer boy for my School's Cadet Corp, it has always resulted in having me rub shoulders with the "big boys". And so I have always had a knack for all things musical," Skonti tells Lambo Xtra about how he took fancy to the sound creating process and fell in love with it.
The Ghanaian music producer and recording artist whose real name is Kojo Asante Opoku, is putting a finishing touch to a new project which he describes as a 'new wave of madness', and ready to show the world he has more tricks up his sleeves.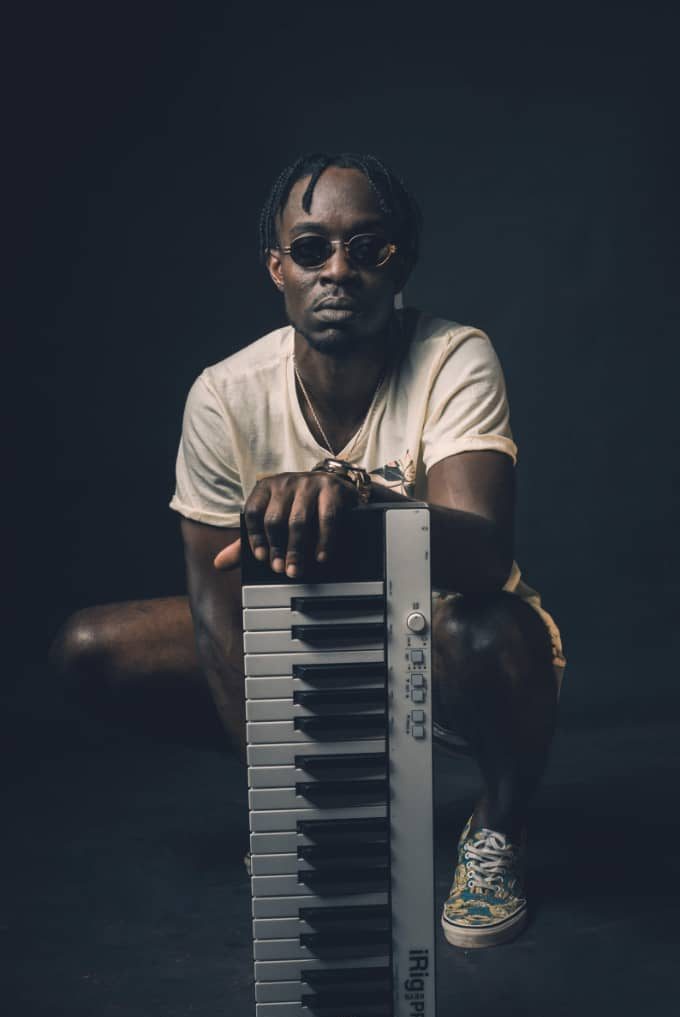 How has this past year been for you?
I've been good, doing well whilst remaining forever thankful. I have been at it hard still; grinding hard on all fronts for my family. The past year hasn't been too bad. On the back of the year, before that saw a little action, this past year has been much more active, collaborating with young talents and creating some more madness in the studio.
How did you first get into music, what sparked the interest?
Music is a language I found myself understanding and communicating through from a young age. As an 8-year-old drummer boy for my School's Cadet Corp, it has always resulted in having me rub shoulders with the "big boys". And so I have always had a knack for all things musical.
Not much changed until I was about 17-years-old when I was drawn close to an 'ol'gee' in the hood where I grew up because he was always making beats. I took fancy to the sound creating process; falling in love with how the various selections in Fruityloops would come together in such harmonic beauty. I quickly latched on to the process and in my mind had so much I wanted to chop and fix. So when I found myself bored with early life as a teenager, I put together my setup and started to create my beats, and I haven't stopped ever since.
Last year was challenging for a lot of artists, did COVID affect your creativity in any way?
Last year sure did have a great effect on all activities, and I cannot begin to bore you with the extent to which it went with me. Rather, I can easily highlight the fact that a creative mind like mine took advantage of being in the conducive environment of solitude to connect with myself. I utilized the space I had around me at home and set up a home studio, and from there I bled into my creations. Technology taught us, now more than ever, how to bridge the gaps the pandemic created, and we haven't looked back.
I have continued to link up with the creative fraternity, continue to see through beautiful collaborative projects. I have also since the 'pandemic era' dropped the 'Quedwo Opoku' Album.
You dropped a joint EP with 4EB in October! What was your mindset going into it?
Yes, the S4 EP with 4EB! This year, it has been my major focus after I put out my body of work (Quedwo Opoku Album). I have been looking forward to putting this project out with 4EB because to me, it is my very own way of fostering that brotherly 'bond' we have always felt, Ghana and Nigeria. It is love energy citizens of both nations can relate and resonate to, even sometimes highlighted in our friendly competition. It also comes as a welcome opportunity to merge markets and identify and tap into the singular African Music market. Therefore, this tape sees two young African Kings, both gifted with dual creative abilities in beat making and themselves artists.
How would you describe your sound?
Yeah, Chalie! I have been blessed to have learned from many of the great artists I have worked with. Kwaw has always been a beacon shining some light unto the way for many of us to find our paths, and we are always thankful.
You've worked with some amazing people in the past! What has been a standout moment?
A standout moment that sits in the front row of my mind remains with my big brother Samini. During a period when we had a couple of projects we had been working on together, he had asked me what my signature on a tune was. At the time I didn't have a personalized one and admitted that. Samini did his freestyle magic and shouted "Ah my guy, go with something, anything like… Skonti Agaaaaaain!…." and that was it. So yes, Samini is the originator and the first voice of the signature I still use.
Who are your inspirations?
My greatest inspiration has always been my Dad. I have always been a true reflection of him, and I am proud to bear his name. In the same vein, but concerning music I take a lot of inspiration from many remarkable producers like Dr. Dre, Pharell Williams, Timbaland as well as Scott Storch. They brought me to the realization that one's work is an extension of one's self, and that's why beat production will forever be my first love; being an artist alongside has always just been the outlet to spill out how I feel on my beats.
What are you most excited about and what is next for you?
I am most excited about the outcome of the energy. I and the whole Madtime Entertainment have been putting in currently. A new wave of madness is about to roll worldwide, the family is growing and new acts emerging. Follow me and everyone with Madtime Entertainment on all socials and see what we got going on.