The effervescent Falana has been delighting ears and winning hearts from London to Lagos. The Nigerian-Candian singer and songwriter was raised in Toronto, with a childhood that included the traditional Yoruba music played by her Nigerian parents – who always made sure the family stay connected to their home – blended with the pop, hip-hop, R&B, and dancehall she discovered through her own tastes and playlists. This, along with her affinity for travel across Europe, North America, Africa, and the Caribbean, explains the range in her music and voice, and the inspirations that run through her music videos and personal style.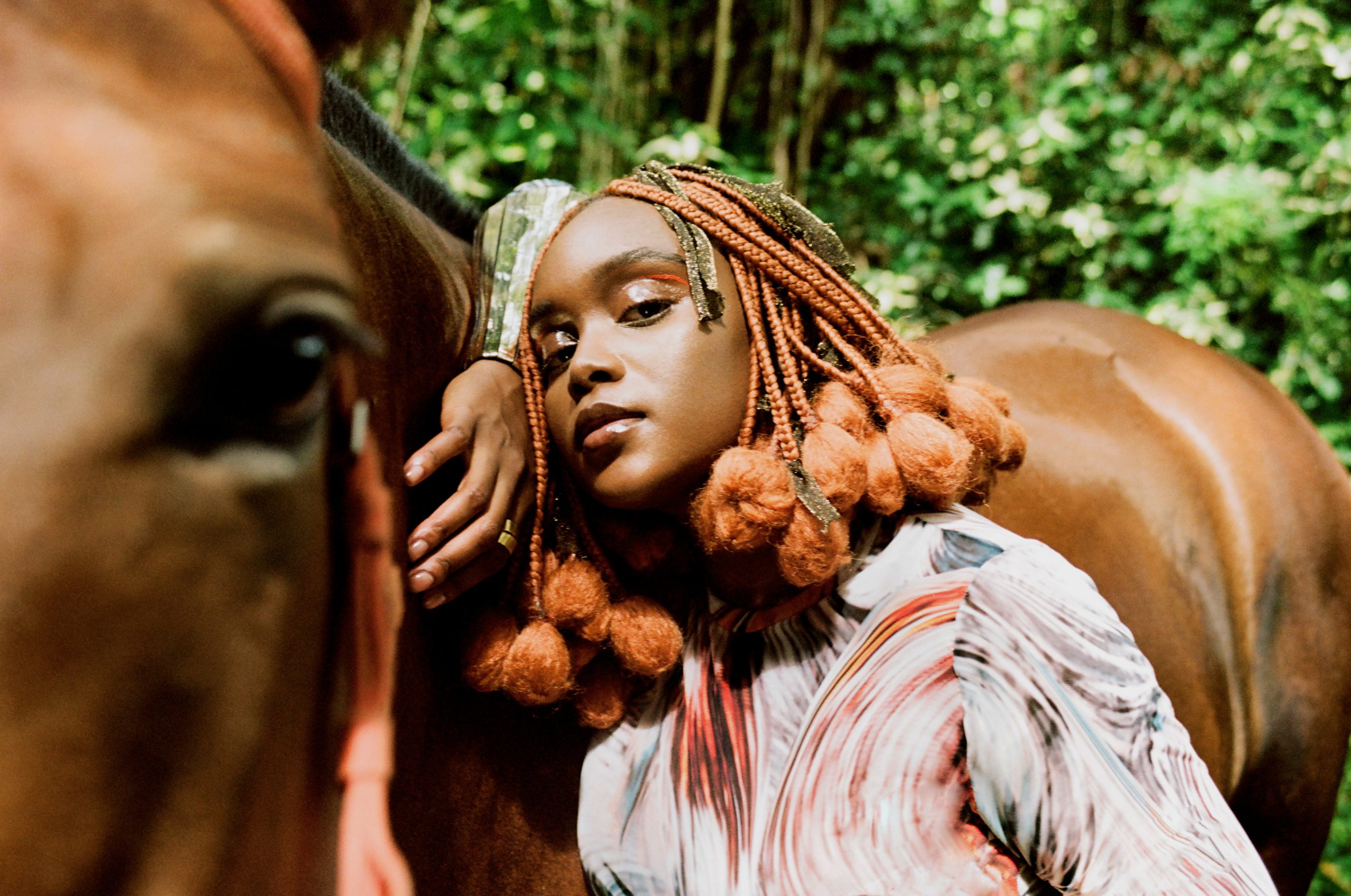 📸 Savannah Baker
👗 Assistant: @mangohelll
📸 Assistant @twochie1
💄 : @hair_by_napturalmel
retouch: @arielbrigmann
Wearing: @sammybdesignsny
Falana's most recent single, "Joy", is a vibrant, exuberant, and soulful tune full of positivity, affirmations and feel-good vibes that was recorded in world-famous and lush settings of GeeJam Studios in Port Antonio, Jamaica. Produced by up and coming Jamaican producer KINGBNJMN (Dave East, Burna Boy, Stalk Ashley), the softness and edge of the song play well together and you can feel Falana's energy through the speakers.
She also recently released a documentary Life From My Point of View, an engaging introduction to Falana's story: from her early years growing up to an exploration of her creative process and influences. It also includes a behind-the-scenes look at the making of the visual for "Joy," which was filmed on location in Jamaica. Staying true to her Naija roots, Falana gives us a tour of some of her personal landmarks in Lagos: the I.AM.ISIGO showroom where she headlined her first show in her homeland and ALÁRA, the contemporary design store where she hosted her launch party for the Chapter One EP.
"I wanted this documentary to tell my story from my roots to where I am now.:" Falana shares via Red Bull. "Finding old pictures and video footage of me and my family brought back many memories which I wanted to share. The documentary tells the story of how this journey shaped my sound and me as an artist, from Toronto to Lagos via Havana. It is a snapshot of my life and musical journey, right up to the making of the video for my current single 'Joy' in Jamaica."
We had the pleasure of speaking with Falana on her inspirations, creativity, and what we can expect next from the rising star. Our conversation is as follows:
Everything about you is just vibes. Where does that creativity come from?
I honestly just try to keep myself humble and open to ideas! I think creativity is really
about trying to be authentic to yourself, and writing from a place of non-judgment.
What were some of your favorite artists and albums to listen to growing up?
In no particular order:
Lauryn Hill – The Miseducation of Lauryn Hill
Kanye West– My Beautiful Dark Twisted Fantasy
Prince – Purple Rain
Erykah Badu – Mama's Gun
Amy Winehouse – Back To Black
How have Canada and Nigeria influenced your sound, look, and overall career?
From when I was born, I have been from two places; Deeply connected and influenced by those places. So there is always this yearning and searching I think that has pushed me to constantly explore and that is what has really impacted my creative journey. As an artist, I am always looking outside myself and outside what feels familiar.
Sonically, I grew up listening to very specific kinds of music that helped my parents stay connected to home, but I was also listening to such a mash up of other sounds. So when I was exploring my own sound, it never felt straight forward.
What is your favorite Canadian slang? What about Nigerian food?
Okra Soup with Pounded Yam! Haha Timmies, short form for my favourite bagel joint.
You've also traveled throughout Africa, America, Europe and the Caribbean. What are some of your favorite countries to create and record in? It's very difficult to pick but I think it's a tie between Nigeria and Jamaica!
What was it like filming the visuals for 'Joy' Jamaica?
2020 was a year where it was really hard to plan anything and know for sure if it was going to go according to plan. When we were recording and shooting the music video for "Joy" in Jamaica, there were so many new travel protocols and restrictions that were so difficult to navigate. I am so grateful that the final video was amazing despite all of the obstacles.
I think it was also difficult in some moments to stay motivated and creative. And I really miss being in a studio physically when I am collaborating with other producers, writers, and artists. Sometimes there is a "magic" that happens when you are in the room. But I also learned to create music remotely. I released a song at the end of last year in support of the End SARS protests in Nigeria. I recorded keys and vocals in Lagos, strings were recorded in Spain, and the bass & drums in London. It was a great collaborative experience and everybody bought their own energy into the song.
The songs you've released so far have been amazing. What sounds and feels can we expect from you on a full-length project?
Thank you! I am really excited to release my album. It feels like I have really come into my own as an artist. My story has definitely been a cut and paste of experiences, and travel. So this album definitely embodies that. I recorded in Jamaica, Portugal, Sweden, Nigerian, and Ghana. It's a blend of afrobeat, soul, R&B, and pop! I can't wait to share.
You can also check out Falana on the newest edition of our Lambo Musik playlist, exclusively on Pandora and Tidal. Her personal picks for the playlist are "Eternal Light" by Free Nationals featuring Chronixx, "Shea Butter Baby" by Ari Lennox and "Cyanide" by Daniel Caesar. Enjoy!