Efya is a name synonymous with authenticity and honest self-expression. Across her storied career, she has remained unflinchingly true to herself, while simultaneously refusing to stop growing. Again and again, she has challenged boundaries musically and socio-politically, remaining steadfast as a strong voice for African music. Always adding to her growing discography, which includes influential albums like 'Janesis' and 'T.I.N.T.', Efya's creativity knows no bounds, refusing to be placed in a box. Efya recently sat down with Lambo Xtra to discuss her origin story, musical inspirations, collaborations, and plans for the future.
Growing up, Efya was surrounded by art and music, creating a fertile environment for a young creative mind, and molding her into the inspirational artist she would become. Of her musical upbringing, she says, "my mother was around a lot of musicians because she's a veteran journalist. She was the first camerawoman in the country, and she went to film school. I grew up around artists, and I was influenced by that as well as music from movies and the old highlife stuff, mixed with R&B from abroad and traveling the world."
Combining a worldly perspective on music with influences from her home in Ghana contributed greatly to forming her eclectic, boundary-pushing sound. "All of these influences added to me, a bit of New York from the Bronx, a bit of German, Italian, and so many places that have inspired my style. But being in Accra was an exciting time for me because I grew up in a rural area. We kept moving from place to place before I moved to the suburbs, and before I went to university. The music at that time was more in the style of hip-life, with artists like Reggie Rockstone and Kwaw Kese. At the time there was a movement focusing more on rap than singing. I think these external influences I had from music I listened to growing up impacted me, and I transferred that deeply into my music."
Not only does her wide breadth of influences contribute to her diverse sound, but it's also intrinsic to her artistic process. Using her creative powers to forge a unique path, Efya follows in no one's steps and instead chooses to blaze her trail. "I'm very versatile as an artist, I think I can do anything if I put my mind to it", she continues "There is a lot of power in what I do. I've always referred to my journey as being different from everybody else's, I've never compared it to anybody. And, I'm always learning new ways to enhance my craft. Growth is everything, and the only thing we're short of is time."
"Money", a recent collaboration with Basketmouth and Oxlade, finds her at the top of her game, delivering a powerful performance that showcases natural chemistry with the aforementioned artists. Regarding the song, she says, "the process was amazing. Basketmouth is amazing, he knows what he's doing. He understand me musically, and his producer did as well. It was mad, he came and we recorded it together, I told him we had to be in the studio together. I hate sending verses because it's never as magical as when the artists are present in one place."
Elaborating on her songwriting process in the studio, Efya says, "everything comes to me gradually. First off, depending on the theme of the song. The theme defines what feelings you're going to attach. It will define your wording, your vocabulary, and your diction."


Beyond the studio, a central part of Efya's craft is her performance, which showcases her dedication to every aspect of music. She always tries to prioritize her stage presence, making for electrifying, powerful live shows. She values giving a charismatic and unique performance on stage, saying "regardless of whatever artist I'm put on stage with, I'll always make my impact. I think this is important for an artist to have because you have to be confident about what you do, regardless of everybody else being awesome." She also deeply believes in the importance of connecting with an audience and respecting their time, which is admirable and stands out in the musical landscape today. "Connecting to your audience is very important to me. The whole point is, regardless of the stage, it's always somebody's first time seeing you live. So, whether you've done a show there before or not, you still have to bring it fully because you never know who's watching. That's why I put a lot of work into the performance. I believe I'm within the top 5 best performers in Africa."
Out of all the memorable concerts, she has performed, there are a few that remain in her heart as the most significant, including a show overseas in China, one that showcased the international power of Afrobeats. "In early 2020, we went to China, and it was my first time there. This was the first Afrobeats concert held there. That was crazy because we were on the other side of the world, and we were jamming to African music that they'd probably never heard. The first AMVC awards as well, when I was younger and not that known, came and captivated the whole audience with a standing ovation and an encore. I think it was very impactful because I was also in another country, and it was one of my first early experiences with that."
More than just a musician, Efya is also deeply involved in the political climate of both Ghana and the music industry. She has especially helped make a gateway for women in music while advocating for their equal treatment at all costs. She is committed to making it easier for women to succeed in an industry that's already geared against them. "The real motto and the aim is truly to live to inspire, as others have done for me. I believe I am who I am because somebody did something that inspired me to realize 'I can do that too.' I look at all the women – to Angélique Kidjo, who's still being nominated and winning Grammy's, and I say I can do that too. So for me to become that for other female artists, that's the point. To live and to inspire. Everything that we're doing now to open the gates is for the people that come in next, so there's a gateway for all the people to come in. From all the hard work we've done over the years when we didn't know what publishing was and we had to educate ourselves – to know when we can advise younger artists coming up so they can do the right thing, this is our purpose."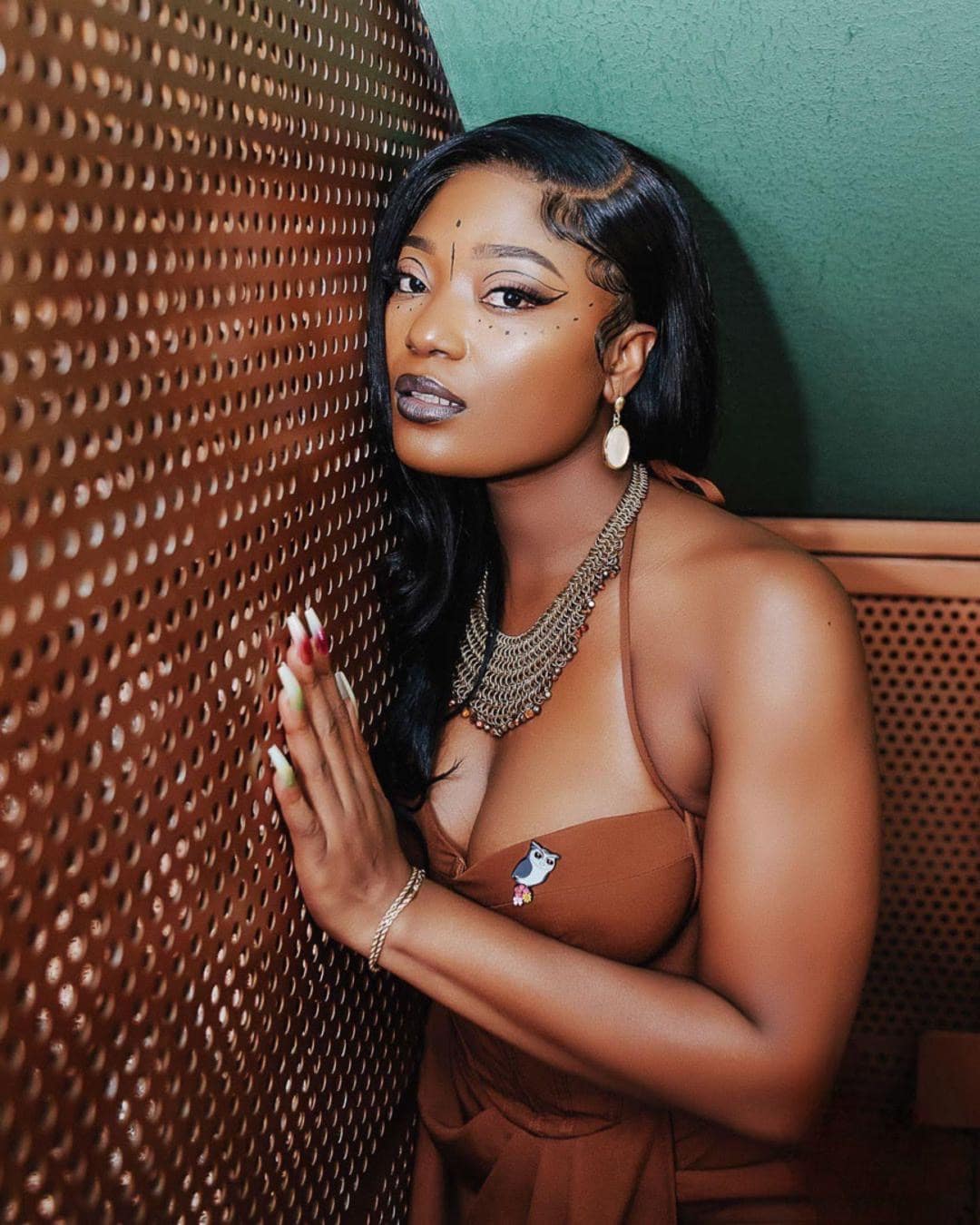 Outspoken about the lack of fairness towards women in the music industry, Efya has worked hard to help carve a path for upcoming female artists. From the studio to the stage, the process is more challenging for women every step of the way. "The industry is less equal for female artists, they have to put in a lot more energy compared to the boys. I think we need to focus more on talent and give the girls their flowers because we work harder, and have built so much. Especially for girls in Africa, it's even harder than for the ones in America. Girls need to support each other rather than fight. We do three-hour sets where we're dancing and singing on the pitch, the boys don't do that."
As an influential voice in African music, Efya has her own opinions and visions for what's next for music in Africa, highlighting the importance of protecting its authentic sound. As far as what's next, she says, "it depends on us, we won a Grammy. Right now you can't ignore the sound, but we have to protect it and advance to where we're going next – what does Afrobeats become next?" Speaking on the expansion and evolution of African music that has been advancing quickly in recent years, she says, "we have African music that's under the R&B playlist now, it's not just Afrobeats. Things like this, we always dreamed of doing, so if we're here, now let's do all the things possible to make it easier for the younger artists coming after us. Also, we need to protect the sound, and make sure there's a better platform for artists who are coming. Who will you be for the next generation? We can only go higher from here. Let's make the best of the situation."
A musician, activist, and trailblazer, Efya has had a storied career and remains one of the mainstays of African music today. Committed to authenticity, opening doors for rising artists, and advocating for equality for women in the music industry, her impact stretches beyond songwriting, and into humanism as a whole.